Q: CAN I CHANGE EMAIL AFTER I BOUGHT AN ACCOUNT?
Yes, we are providing all access to the account, including e-mail login and password.
You will be the first owner of the Steam Account. 
Q: CAN I PLAY THE GAME FROM MY MAIN STEAM ACCOUNT?
Yes, if the Family & Share option is aviable for the Game you buy,  you will be able to play the Game from your Main Account.
Q: ARE THERE ANY REGIONAL RESTRICTIONS?
No you can use the Account World Wide & the Games on it. 
Q: I THOUGHT PURCHASING ACCOUNTS WAS ILLEGAL?
Buying Steam accounts is not against the law. While it does break the EULA, the reprocussions for buying and selling accounts do not carry over into the real world. We have been selling online Steam accounts for almost 9 years and have perfected our practice to ensure that the accounts you purchase from us do not get banned or have any problems.
Q: HOW LONG WILL IT TAKE TO RECEIVE THE STEAM ACCOUNT?
After Payment you will receive the Steam Account in our working Time [10AM-12PM Midnight CET 365 days/year!] within 10-60 Minutes.
Q: HOW I WILL RECEIVE THE GAME
We are sending e-mail with link where you can find all information about the account.
It looks like this: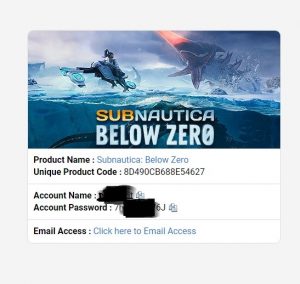 Q: CAN I BUY NEW GAMES IN FUTURE AND ADD THEM INTO THE ACCOUNT I BOUGHT FROM YOU?
Yes if u bought the Account from us, we can add new Games which will be published in Future. Write us before you Order, we will check it.
Q: WHAT WARRANTY DO YOU OFFER ON YOUR ACCOUNTS?
Every account purchased from us is covered by our lifetime warranty.
Q: WHAT IS YOUR REFUND POLICY?
Visit our Return & Refunds site 
Q: I GET MY ACCOUNT ONCE I HAVE MADE PAYMENT?
All account information is delivered to you via your payment email.
Q: WHAT INFORMATION DO I GET WHEN I BUY AN ACCOUNT FROM YOU?
When your order is approved, you will receive the full account credentials in order for you to take full control of the account. 
Q: WHAT ARE YOUR HOURS OF OPERATION?
We are open from 10AM to 12PM CET (Midnight) . Any orders placed outside of these hours will be delivered first thing in the morning the next day.
Q: WHAT PAYMENT METHODS DO YOU ACCEPT?
We currently accept Paypal, all major credit cards.
Q: MY ORDER HAS BEEN APPROVED BUT I STILL HAVEN'T RECEIVED THE EMAIL CONTAINING MY ACCOUNT INFORMATION.
Please check your "Spam" folders in your email account. If your account information is not in the spam folder or your inbox, please immediately contact us via email or through our chat.
Q: WHAT GAMES DO YOU GUYS PURCHASE?
We are actively buying and selling every game featured on the website.